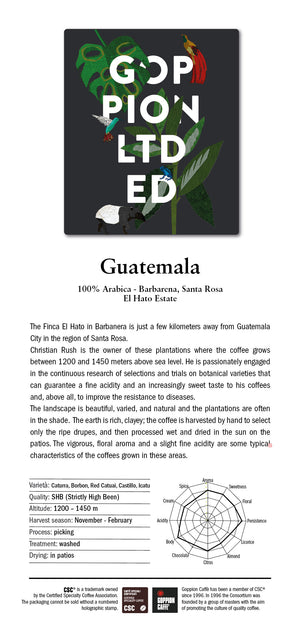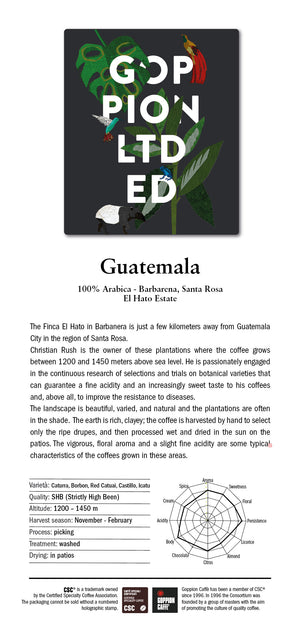 On Sale
Goppion Limited Edition - Guatemala - Coffee Beans 500g
100% Arabica - Barbarena, Santa Rosa El Hato Estate
The Finca El Hato in Barbanera is just a few kilometres away from Guatemala City in the region of Santa Rosa. Christian Rush is the owner of these plantations where the coffee grows between 1200 and 1450 meters above sea level. He is passionately engaged in the continuous research of selections and trials on botanical varieties that can guarantee a fine acidity and an increasingly sweet taste to his coffees and, above all, to improve the resistance to diseases. The landscape is beautiful, varied, and natural and the plantations are often in the shade. The earth is rich, clayey; the coffee is harvested by hand to select only the ripe drupes, and then processed wet and dried in the sun on the patios. The vigorous, floral aroma and a slight fine acidity are some typical characteristics of the coffees grown in these areas.
500g Coffee Beans
CSC® is a trademark owned by the Certified Specialty Coffee Association. The packaging cannot be sold without a numbered holographic stamp.
Goppion Gaffe has been a member of CSC® since 1996. In 1996 the Consortium was founded by a group of roasters with the aim of promoting the culture of quality coffee.